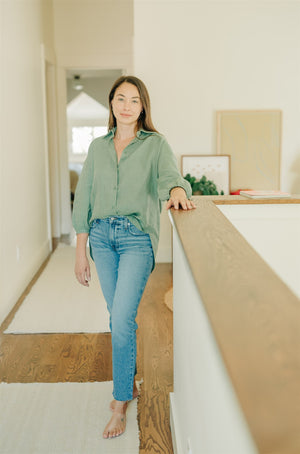 Hello!
I'm Sheena, the founder of Sheena Marshall Jewelry, and I'm thrilled to have you here. After the birth of my first daughter, I discovered metalsmithing, and it ignited an unmistakable passion within me. Constantly in search of high-quality jewelry that effortlessly added a finishing touch to my outfits, I found it increasingly challenging to find pieces that met my standards. Fueled by this unfulfilled desire, I took matters into my own hands and founded Sheena Marshall Jewelry, a space where women could find minimal and effortless jewelry designed to make their days easier and more stylish.
At Sheena Marshall Jewelry, I'm dedicated to offering you a collection that seamlessly blends minimalist aesthetics with unparalleled craftsmanship. Each piece is thoughtfully designed to exude timeless elegance while incorporating elements of effortlessness and versatility. My ultimate goal is to provide you with jewelry that effortlessly enhances your personal style and simplifies your daily routine. Every piece is crafted to effortlessly transition with you throughout the day.
With an unwavering dedication to quality and an understanding of the importance of understated style, I aim to empower you with jewelry that becomes an integral part of your life.
Cheers,
Sheena
At the core of my values lies a profound ethos that embraces timeless, effortless designs, recycled metals, and the belief that wearing jewelry should be a purposeful and unburdened experience. Drawing inspiration from the purity of simple shapes and captivating textures, I embarked on a creative endeavor to fashion jewelry with an understated allure, tailored for everyday wear. Every piece is meticulously crafted and intricately designed, with an unwavering dedication to sustainability woven into its very fabric.
Our Values
I hope my designs serve as a source of inspiration and empowerment, encouraging you to make thoughtful and intentional choices for yourself and the jewelry you decide to wear.